Here is the events for the Pardeeville Watermelon Festival held the first Saturday in September on the grounds of Chandler Park in Pardeeville, Wisconsin.
Please note, these times may change based on scheduling conflicts, please check back here prior to the upcoming festival for exact times.
---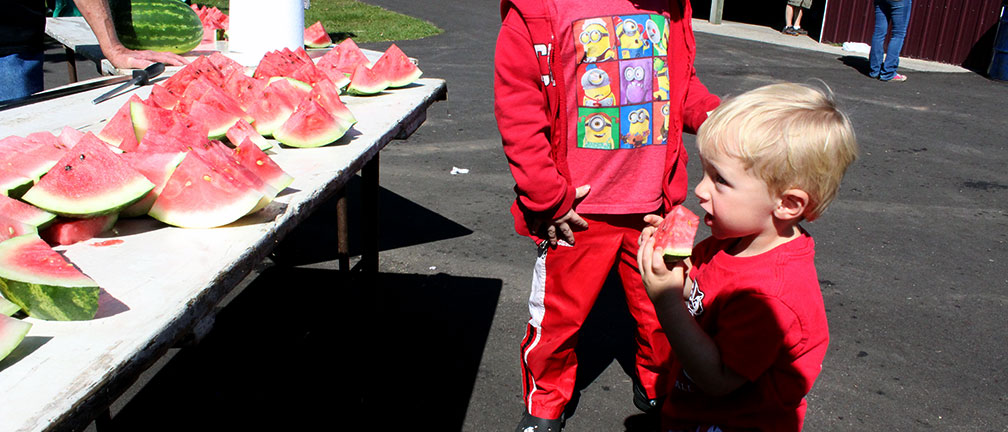 10:00am | Grounds open
Artist and vendor fair, Watermelon Midway filled with children's games hosted by local groups, bounce house, DJ'd music, concessions assisted by local groups, and free, fresh-sliced watermelon dished out all day by committee members past and present.
Watermelon Carving begins
Pick up a watermelon and start carving right away. Carvings are judged during championship events.
Children's Entertainment
Fun and crowd participation for children of all ages. Past acts include Wayne the Wizard, Hillbilly Silly Science Spectacular, and The Bassmeister Comedy Show.
Free Hay Dive
A big hit the last few years, this year we have several age divisions. Everyone gets a special surprise!
Largest Watermelon weigh-in
Bring your watermelons in to get weighed during our first scheduled Championship Event
Watermelon Carving entry turn-in
All carvings should be turned in for judging.
Championship Events begin (early afternoon)
Seed Spitting and Speed-Eating events held on the basketball courts.
---
Check back for updates and future news from the U.S. Watermelon Speed-Eating and Seed-Spitting Championships, Inc.
---
The Pardeeville Watermelon Festival is an annual fall festival held the first Saturday after Labor Day in September, hosted in beautiful Chandler Park. It is held in Pardeeville, WI, USA, home of the U.S. Watermelon Speed-Eating and Seed-Spitting Championships, Inc. For more information, please use the links above. This website will be changing more and more as we get closer to our event, so check back soon. For more immediate information, please email info@pardeevillewatermelonfestival.com.