A staple of our free festival, is the open air market. Our market showcases art and craft vendors from all over the area, plus a flea market and commercial vendors such Avon, Scentsy, and Tupperware.
The fair opens at 10:00am until about 3:00pm. The last few years, we've had between 20 and 40 vendors spread out around the event grounds.
Date: Saturday, September 8, 2018

Location: Chandler Park, Pardeeville, WI (see website for detailed maps to the park). Park is located approx ¼ mile East of Hwy 22N / N Main Street.

Deadline: Saturday, September 1, 2018 – Please note: there will be no more "day of" sign up.

Festival: Set-up time is from 7:30am to 9:30am – All vehicles must be removed and unloaded by 9:30am

Vendor area is open from 10:00am to 4:00pm or when all festival sponsored events are completed (whichever comes first). Please be aware of children and festival goers while maneuvering your vehicles during this time!

Tents and electrical service will not be provided. Each space will be clearly marked and you will receive your booth number the morning of the festival.

Fees: $30.00 per 10' by 10', or $40.00 per 10' by 20' space checks payable to the Pardeeville Watermelon Festival. Your payment and a copy of your Wisconsin Department of Revenue Form S-240 are due with this application in order to reserve your space. There are no refunds and your cancelled check is your proof of acceptance as a vendor.

Parking: Vehicle parking will be provided for vendors. Parking next to your space may be available in certain areas. Please do not count on being able to park next to your space.

Exhibitors: Space is reserved on a first come, first serve basis. Previous vendors can renew their same approximate location (spaces may be set up different). Like media will be not placed next to each other. Festival committee reserved the right to accept anyone with similar media / commercial. This is an outdoor show. You must furnish your own tent, table, chairs, and displays. All sites are not guaranteed to be on flat surfaces. Please be mindful of unstable displays. Playing of loud music is not allowed.

S-240 Form: The "Wisconsin Temporary Event Operator and Seller Information" information is required by the Wisconsin Department of Revenue and can be obtained at www.revenue.wi.gov/html/temevent.html

UPDATES

---

:: Vendor Chair Needed ::

01/17/18: We have updated our online forms and downloadable form is available.

08/29/17: Due date extended to Friday, Sept 1! Please make sure at least your online form is emailed off before then. No day of applications will be accepted.

08/15/17: Due date for last vendor applications is Satuday, 08/29/17, just TWO WEEKS LEFT.

07/15/17: We now have a Lularoe vendor confirmed.

04/12/17: Online application is now live and ready for submissions. See the form at the bottom of the page.
---
This event is sponsored by the U. S. Watermelon Speed-Eating and Seed-Spitting Championships, Inc., held every year the first Saturday after Labor Day. It includes annual events such as speed-eating, seed-spitting, watermelon carving contests; game booths; food and beverage stand.
Current 2017 map: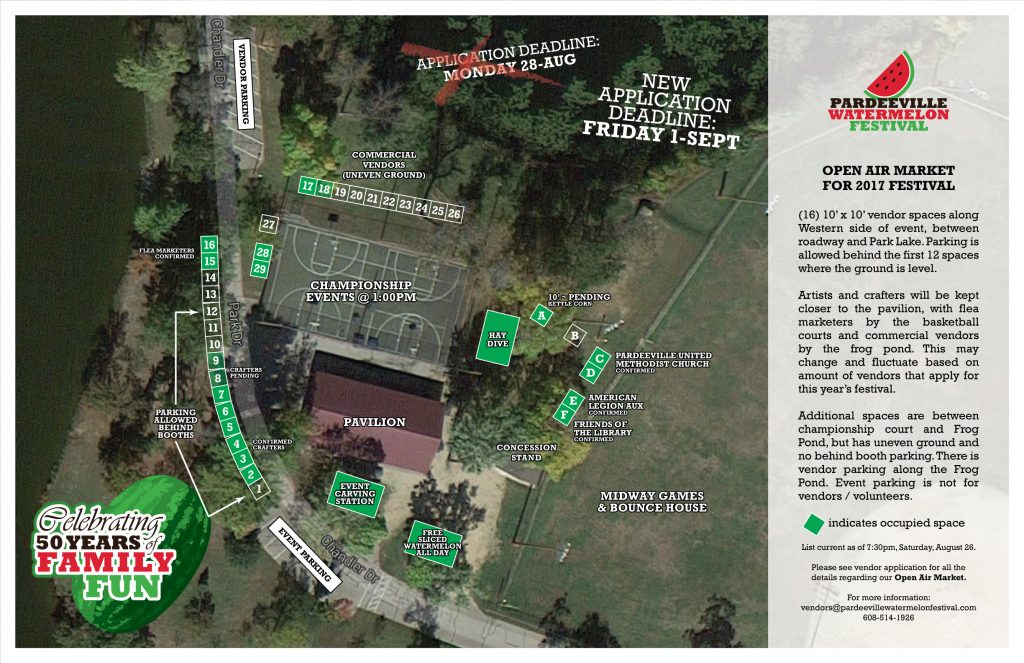 ---
Check back for updates and future news from the U.S. Watermelon Speed-Eating and Seed-Spitting Championships, Inc.
---
The Pardeeville Watermelon Festival is an annual fall festival held the first Saturday after Labor Day in September, hosted in beautiful Chandler Park. It is held in Pardeeville, WI, USA, home of the U.S. Watermelon Speed-Eating and Seed-Spitting Championships, Inc. For more information, please use the links above. This website will be changing more and more as we get closer to our event, so check back soon. For more immediate information, please email info@pardeevillewatermelonfestival.com.