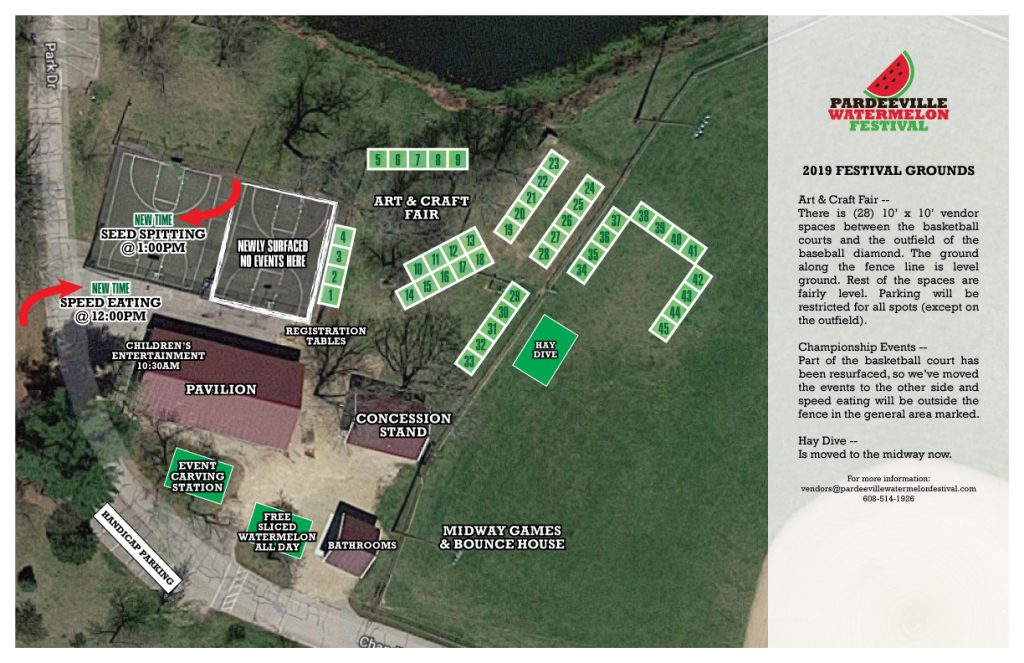 The fair opens at 9:30am until about 4:00pm. The last few years, we've had between 20 and 40 vendors spread out around the event grounds.

Below are links to this year's festival application and tax form for you to download, fill out, and send in.
---
---
Booth fees are $30.00 per 10' by 10', or $40.00 per 10' by 20' space checks payable to the Pardeeville Watermelon Festival. Your payment and a copy of your Wisconsin Department of Revenue Form S-240 are due with this application in order to reserve your space. There are no refunds and your cancelled check is your proof of acceptance as a vendor.
Address:
Pardeeville Watermelon Festival
Attn: Vendor Application
P. O. Box 163, Pardeeville, WI
---
The Pardeeville Watermelon Festival is an annual fall festival held the first Saturday after Labor Day in September, hosted in beautiful Chandler Park. It is held in Pardeeville, WI, USA, home of the U.S. Watermelon Speed-Eating and Seed-Spitting Championships, Inc. For more information, please use the links above. This website will be changing more and more as we get closer to our event, so check back soon. For more immediate information, please email info@pardeevillewatermelonfestival.com.